This article was originally published in PoC||GTFO issue 14.
At the end of last year (following their usual three-year cycle), Nintendo released a new generation of Pokémon games for their latest portable console, the Nintendo 3DS. This time, their new entry in the series spectacularly destroyed several sales records, becoming the most pre-ordered game in Nintendo's history. And of course, along with a new Pokémon title, there are always several things that follow suit, such as a new season of the long running anime, a flood of cheapo toys, and datamining the latest games into oblivion. This article is not about the anime or the datamining; rather, it's about one of the cheapo toys.
The two new games, Pokémon Sun and Pokémon Moon, focus on a series of four islands known as Alola in the middle of the ocean. Alola is totally not Hawaiʻi. (Yes it is.) The game opens with a cutscene of a mysterious girl holding a bag and running away from several other mysterious figures. Near the beginning of the game, the player character runs into this mystery girl, known as Lillie, as she runs up to a bridge, and a rare Pokémon named Nebby pops out of the bag and refuses to go back in. It shudders in fear on the bridge as it's harried by a pack of birds—sorry, Flying type—Pokémon. The player character runs up to protect the Pokémon, but instead gets pecked at mercilessly.
Nebby responds by blowing up the bridge. The player and Nebby fall to their certain doom, only to be saved by the Guardian Pokémon of the island, Tapu Koko, who grabs them right before they hit the bottom of the ravine. Tapu Koko flies up to where Lillie is watching in awe, and delivers the pair along with an ugly stone that happens to have a well-defined Z shape on it. This sparkling stone is crafted by the kahuna of the island (Did I mention that we're not in Hawaiʻi? I was lying.) into what is known as a Z-Ring. So obviously there's a toy of this.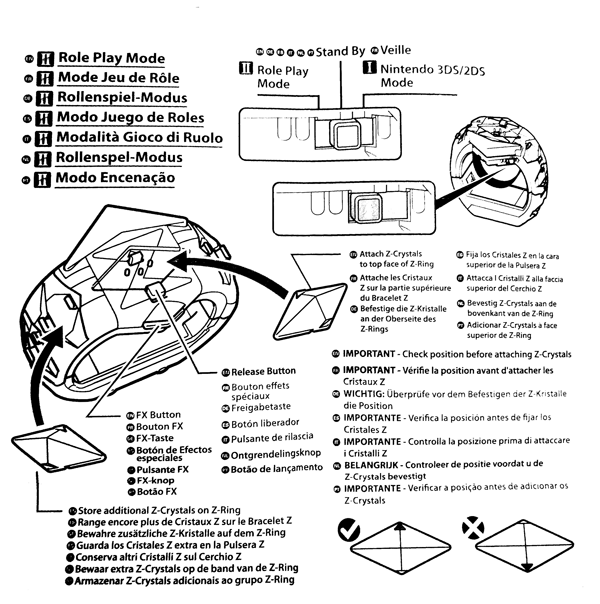 In the game, the Z-Ring is an ugly, bulky stone bracelet given to random 11-year old children. You shove sparkling Z-Crystals onto it, and it lets you activate special Z-Powers on your Pokémon, unlocking super-special-ultimate Z-Moves to devastate an opponent. In real life, the Z-Ring is an ugly, bulky plastic bracelet given to random 11-year old children. You shove plastic Z-Crystals onto it, and it plays super-compressed audio as lights flash, and the ring vibrates a bit. More importantly, when you activate a Z-Power in-game, it somehow signals the physical Z-Ring to play the associated sound, regardless of which cheap plastic polyhedron you have inserted into it at the time. How does it communicate? Some people speculated about whether the interface was Bluetooth LE or a custom wireless communication protocol, but I have not seen anyone else reverse it. I decided to dig in myself.
Read more