In mid-2017 I joined OpenAI to work on their Gym Retro project. It was a relatively small company, and like many small companies in the tech industry in San Francisco it had, tucked away in a corner of the office, a TV with some game systems plugged in. Usually companies have a modern system (or at least close to modern) like an Xbox 360 or a PS4. Instead, perhaps fittingly, instead I found plugged into this TV one of the AtGames Genesis clones and an original Super Nintendo Entertainment System. Those of you familiar with the AtGames clones will know that quality is not a word that anyone would use to describe them, so I mostly ignored that. But the SNES—well, it's a SNES. I don't think I'll need to convince anyone reading this of how important and timeless the SNES is in its specific place in console history. This SNES had two controllers, a small handful of games including Donkey Kong Country and Legend of Zelda: A Link to the Past. It also didn't turn on.
Well, it did turn on when I started there, but only a few months later, and for the following year and change, it didn't turn on. No video, no sound, not even the power LED. Being the console tinkerer I was I decided to bring in a gamebit screwdriver and open up the thing to see if I could figure out why it wouldn't turn on. A few screws later I opened the console and…oh. Mabye that was why it wouldn't turn on anymore.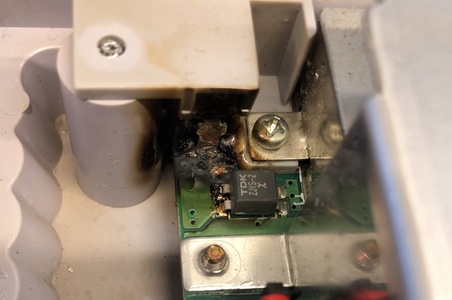 Apparently the SNES had gotten left on for who-knows-how-long and the power brick had been outputting 14 V instead of the nominal 10 V. This burnt out the entire power circuit and left an acrid odor of burnt plastic and silicon. I decided I should try to replace the power circuit, but it took me some time to get around to it.
Read more